Join our Summer Beach Program!
Join any time stop any time.  Runs until school starts!
Now going for all 10 U- 16 U
4:30-6 PM at Flick Park in Glenview.  Email

info@chicagobouncevolleyball.com

for more info
NEXT YEAR TRYOUTS
SEPTEMBER 5th and 6th at Joy of the Game!

UPCOMING NEWS:
SUMMER PRACTICE SCHEDULE:
14 Blue 5-6:30,  14 Red 6:30-8 PM, 14 Blake and 14 Blue Nationals 6:30-8 PM
15 Red 6-8 PM, 15 Blue 6:30-8 PM
16 Red 8-10 PM, 17 RED STARTS MONDAY MAY 29th 8-10 PM
High School News:

Congrats to Club Director Blake Orlov on becoming the next Varsity Girl's Coach at Deerfield High School!
High School season is under way!  97% of our athletes made their High School Team.  Congratulations to all the Freshman and Sophomores that were moved up to Junior Varsity and Varsity.
Freshman- Jack Sakanich (Highland Park Varsity), Kyle Moy (Niles West Varsity),  Jairon Hsieh (Deerfield JV), Colin Heath (New Trier JV),  Peter Brown (New Trier JV), Joe Monnig (New Trier JV) Gavin Meng (Stevenson JV)
Sophomores-  Jack Howard (Loyola Varsity),  Jeff Lehrman (Deerfield Varsity),  Henry Clemons (Loyola Varsity)
CLUB VOLLEYBALL NEWS 2016/2017 Season:
5/20  Chicago Bounce 14 Red Goes 6-0 to win Adversity invite against Sports Performance Mizuno!  14 Red has won 3 straight tournaments.  14 Red is currently ranked 7th NATIONALLY!!! 
Chicago Bounce had a great first half of the season.  Currently we are the only club in the Northwest Suburbs to qualify 2 teams at 2 different age divisions (14 U and 15 U) for the OPEN division of Nationals.  Chicago Bounce 14 Red and Chicago Bounce 15 Red both made the FINALS of the Indianapolis Bid Tournament.   Chicago Bounce will have 4 teams competing in the OPEN Division of the 2017 National Championships in Columbus.  This will be the 2nd year in a row that Chicago Bounce Volleyball will send more teams into the OPEN Division of Nationals than any other club in the area.   16 Red and 18 Red both won tournament Championships this year.  15,16, 17 Red all finished in Top 2 divisions of the Palos Points Series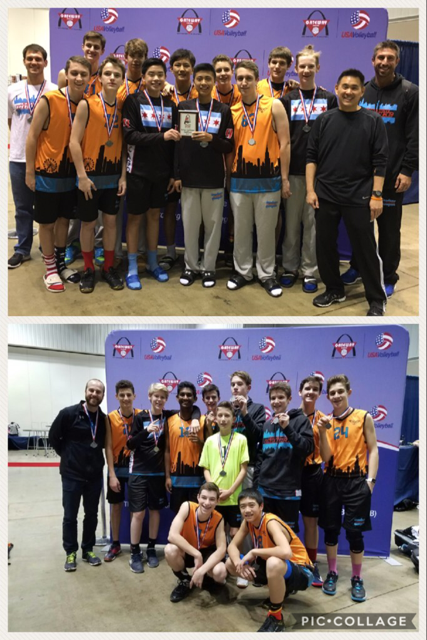 CLUB VOLLEYBALL RESULTS 2015/2016 Season:
NATIONALS 2016-  We Sent 7 teams which was the most of all Northwest Suburban Clubs.  We also had 4 in the OPEN Division which was also the most of any team in the Area.
13 Red- Finished 17th in the Nation…Originally Seeded 23.  Went 4-3 and beat the #4 overall Seed
14 Red- Finished 25th Nationally!
15 Red- Finished  22nd Nationally, Originally Seeded 25th.  Beat Area rival Adversity.
16 Red Finished 33rd.  Beat Area rival Adversity
14 Blue- Finished 33rd
15 Blue- 2nd Bounce 15 team in Open Division Finished 32nd Nationally!
16 Blue- Finished 22nd out of 72 teams and beat the #4 overall seed in the tournament!
We couldn't be prouder of our players and the way the represented Chicago Bounce.  Nationals is always a great playing, and learning experience.  Every player competed hard and put forth an effort they should be proud of.  We are!!!  Thanks for a great year and thanks for great memories!
Go Bounce!
School Volleyball News:
What a successful high school season for our Bounce athletes!  The State Tournament was represented very well by Bounce Players including 4 on the State Runner Ups at New Trier High School!  Congrats Brian K, Joe D, Tennessee F, and Tergel G.
Chicago Bounce Represented on the All-Conference Team.  Congrats to Jack Howard (Loyola-Freshman) Jacob Shapiro (Deerfield-Sophomore) Josh Riskind (Deerfield-Senior) Ryan Slack (Deerfield-Senior) and Dylan Brown (Highland Park-Senior)
With school tryouts over.  Chicago Bounce placed over 95% of their players on school teams!  The Chicago Bounce success of the season carried over into school tryouts.  We would like to recognize the outstanding effort of all our players!  We would also like to give a special recognition to several of our younger players who were pulled up a level or levels on their school team:
Jack Howard(Loyola HS) and Thomas Cavallaro (GBS) Freshman playing on Varsity…Collin Roy (GBS) Freshman on JV
Bryan Ruz (Loyola HS), Caedon Hsieh (Deerfield), Jake Shapiro (Deerfield), Brian Kaiser (New Trier), Joe D' Attomo (New Trier), Gerrit Holleman (Highland Park) Sophomores Playing on Varity
School Volleyball News-
100% of our 7th and 8th grade volleyball players made their school teams!  Congratulations guys.  I hope you represent your schools in the way you represented Bounce!
Results-
14 Red finished 3rd overall.  Earned a bid at McCormick Place.  (Best team in the Northwest Suburbs)
14 Blue finished Tied for 5th overall.  Earned a bid in St. Louis
15 Red won the Silver Division Championship.  9th Overall.
15 Blue finished 24th
16 Red finished 19th out of 50.  25-23, 25-23 loss from missing the gold bracket.
17 Red finished 5-1 the last 2 days!  finished 34th
McCormick Place Bid Tournament-
Congratulations to Chicago Bounce 14 Red for earning a bid at the Boys Winter Volleyball Championships!   Our 14 Boys are the Top team in Great Lakes and our 15s are the top team in our Area 2nd best in Great Lakes.  Out of all the clubs we compete with Chicago Bounce 14 Red had the TOP FINISH OF ANY CLUB TEAM REGARDLESS OF AGE IN OUR AREA!  There is a winning foundation being built at Chicago Bounce Volleyball!  We are becoming the top destination for Boy's Volleyball Players!  I couldn't be more proud of our athletes.

14 Red-   EARNED A BID AND TIED FOR 3rd OVERALL
14 Blue- Was one win away from gold division and pushed 14 Red to 3 games for a chance at the gold division
15 Red- Seeded 16th… ties for 5th just missing a bid losing in a tough 3 game match
15 Blue- Played very well throughout highlighted by a 2-1 Saturday…They went 3-4 this weekend
17 Red- Lost in the semi finals of their bracket going 4-4 on the weekend
18 Red- Short handed went 4-4 this weekend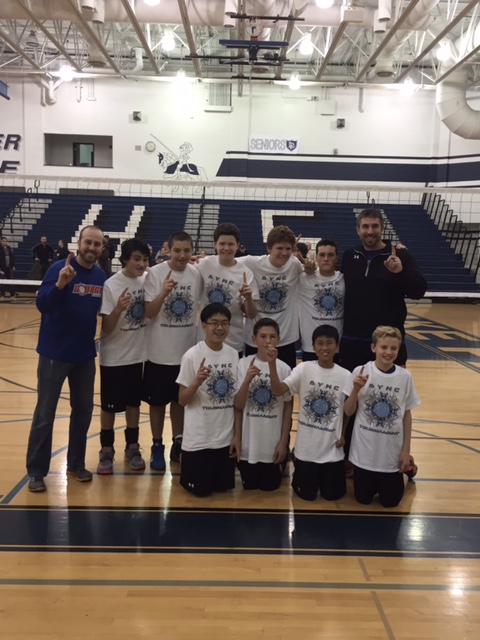 Chicago Bounce Volleyball Club offers three great ways to play volleyball:
National teams, will play in top level tournaments.  These will include Palos Points Series, Winter Boys Championships at McCormick Place, The Gateway Boys Festival in St. Louis and Nationals.  The National teams will also have the option to attend The California Classic as well as other tournaments throughout the season.
Regional teams, will play in skill and age appropriate weekend tournaments, including at least one Palos Points Series and Winter Boys Championships at McCormick Place. We will offer Regional level teams the opportunity to play through the summer, with the decision and payments on Nationals to be made before the end of the season. Players from Regional teams do have the opportunity to join a team for the summer if interested.
FOR OUR YOUNGER ATHLETES!
Developmental teams, for those athletes wanting to learn the game and compete less we will have opportunities to practice with a group of age and skill appropriate teams with less travel.
Recap of our successful 2014 Volleyball Season
18 Red: What an incredibly strong year finishing 24-7 in matches winning 17 straight sets. Now that's a winning run! This great group athletes always made the playoffs, always made the top 3 and finished in the BB bracket at the Palos Point Series. Let's not forget the tournament Championship. The power of motivation and determination. The 18s redefined success.
17 Red: Each player made incredible strides individually as as a team. This special group of young men never gave up and it paid off on Jan 19 when the 17s took 2nd place at the Sync Invitational. A great way to end the season!
16 Red: A great group of players that worked together as a team and an incredible support for the 15s Red. Each person contributed their best and their hard word paid off making 2 semi-final appearances, 1 final appearance and winning the Copper Division at McCormick Place. It only goes up from here!
15 Red: This is one of the best 15 volleyball teams in the area beating numerous 16U teams, winning back to back Silver Division Championships namely the bid tournaments at McCormick Place in Chicago ending in 9th place and St. Louis with an incredible 7th place finish! An amazing accomplishment! This team established themselves to be a top team in the Northwest Suburbs. Boys, you worked hard as individuals and as a team. Be proud of what you've accomplished.
15 Blue: A hardworking team that persevered! This great team made several playoffs beating several 16U teams. St. Louis was a great accomplishment finishing the season winning 4 of 5 matches and became the Copper Division Champions! Each boy had an incredible work ethic and had minds of steel! Those qualities will pay off as you move forward in your volleyball career. Great job!
15 White: This team was unique in its make up. It consisted of many boys under the age of 15, yet competed at the 15 level. It was a huge learning and development year. The result: strong minds, great skills, determination and playing at the higher level will make this team tough in years ahead. Stay together boys!
Check the team pages for latest pictures!
CHICAGO BOUNCE VOLLEYBALL NEWS
We are excited to announce we have teamed up with Club Momentum, one of the fastest growing programs in the Northshore. In addition to adding several Club Momentum coaches to our roster, we are welcoming Matt Switzer, Club Momentum's executive director, as a master coach. Matt has experience both playing and coaching at the collegiate level and will bring yet another "volleyball-obsessed" brain to our already stellar coaching roster.
Again, I hope you will pass this information along to your athletes. If anyone has any questions about the season, don't hesitate to send them my way.
What is Gold Metal Squared?
This summer, Coach Blake Orlov participated in Gold Medal Squared coaching clinic.  Chicago Bounce Volleyball will be implementing the new techniques and philosophies used by Team USA, top clubs such as West Allis, and highly respected coaches around the country.  Check out the website at www.goldmedalsquared.com
---
Volleyball Links:
Webpoint: Renew membership, HP High Performance Camps